I discovered Downshire Hill almost 25 years ago. At the time, I was a new Londoner, living in a small flat above a pub in Tufnell Park. Occasionally I would do the walk across Hampstead Heath making sure I would walk along Downshire Hill to see the gardens and houses that lined this unique street.
I wished I lived here.
Now I do.
A year ago I moved with my partner into a small Georgian terrace house on the south side of the street. A brick-fronted terrace (one of only three) with an elevation set back from the street and typical of the houses built here in the 1820s. In the year we've been here, we've slowly come to know the many stories, secrets, rumours and history of this remarkable street.
Downshire Hill is a well-known street amongst Hampstead locals. It's not as well known as some of London's more famous streets, but ask many Londoners if they know it and it's usually followed by a beaming smile. It is not a commercial street, it has no shops (although it did once), and it's largely made up of houses and apartments. With its deep-set gardens and well-presented frontages, it has a charm that is hard to resist.
Some residents, like me, are new. Some have been here for quite some time. Others live in homes that have been in their families for generations. When you finally arrive here, you generally tend to stay.
Recently a house went on sale; a somewhat rare occurrence. I chatted to the selling agent who was waiting on the pavement for yet another visitor. He told me that they had had 70 viewings within the month. People really want to live on this street.
Of course, Downshire Hill is not just a pretty face; behind the facade is a 200-year history of art, literature, music, entertainment, architecture and science. The street has a history of accommodating high achievers and continues to do so today.
Architecture
If you're an architect, you may enjoy the mix of building styles; Regency, Georgian, Victorian, Art Deco and late modernist high tech.
In 1976, Sir Michael Hopkins built one of the last new buildings on the street (Number 3 circa 2003 and number 9 was completely rebuilt between 2008 and 2012), The Hopkins house is a Grade II* Listed (2018) building; a machine-like metal and glass box, sitting low down beside a tall Victorian apartment building and a small Georgian house. It's every bit as impressive as any Californian Case Study House and will go down in history as one of Britain's most important examples of high-tech architecture. After 35 years, it looks as good as it ever did and reflects the continuous evolution of the street over 200 years.
Halfway down the road, sitting beside an imposing Georgian house is another interesting piece of architecture; the 1936 Modern Movement villa designed by Charlotte Gray (A.R.I.B.A) and MJH Bunney (F.R.I.B.A). Michael John Hewetson Bunney was the son of Michael Frank Wharlton and a second-generation RIBA architect. They built many houses in and around Hampstead Garden Suburb; this seems to be the only modernist movement house they built. The house is featured in a publication of Modern movement examples – if you're interested in this style of architecture be sure to source this book.
Art
Hampstead has long built itself a reputation as an artist's enclave and Downshire Hill has often played host, pre and post-war, to many important British art moments; from John Constable to Dante Rosetti to Dadaist illustrator, John Heartfield, who lived at number 47 between 1938 and 1943 (Blue Plaque).
Artist Richard Carline and his family moved into the same house in 1916 and lived there until 1936. Carline was part of the Downshire Hill group of artists which included John Nash, Stanley Spencer, Henry Lamb, and Mark Gertler. Richard's father, George Carline, his mother Anne and brother Sydney, his sister Hilda (Mrs Stanley Spencer), and his wife Nancy were all painters. Richard painted this scene of friends and family on the terrace at number 47 Downshire Hill.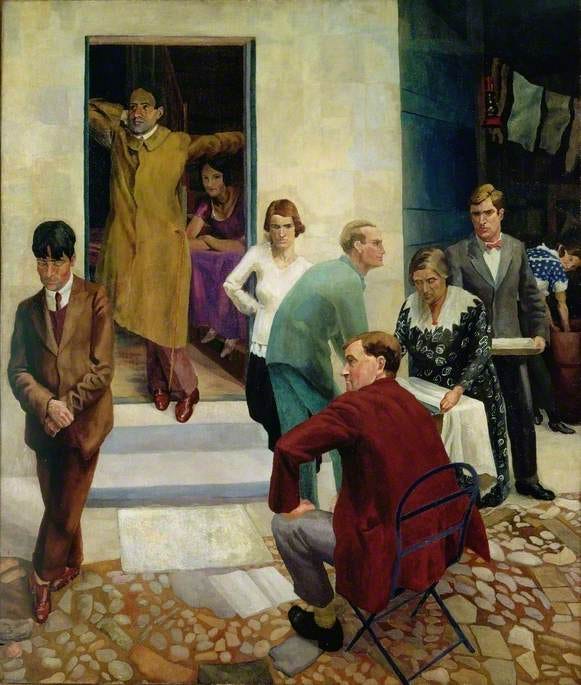 In Carline's painting above, from left to right are Stanley Spencer, James Wood, Kate Foster, Hilda Carline (later to become Mrs Hilda Spencer, married to Stanley Spencer), Henry Lamb, Richard Hartley, Annie Carline and Sydney Carline.
Artist and writer Fred Uhlman and his family lived initially at number 46 before moving to 47. Uhlman was born in Stuttgart and left Germany shortly after Hitler became Chancellor. Along with his wife, Diana Croft, they established the Free German League of Culture and the Artists' Refugee Committee enabling European artists, like Oskar Kokoschka, to emigrate to the United Kingdom.
Like many German refugees, he was considered an enemy alien and interned in Hutchinson Camp on the Isle of Man. His daughter Caroline Compton was a long-time resident of Downshire Hill, living at numbers 47 and 48 and then finally at 41. She died aged 81, in May 2022.
Photographer, Lee Miller and Surrealist artist Roland Penrose lived at number 21 as did John Constable, briefly in around 1826. Back then the house was referred to as 'No.2 Langham Place'.
Artist Dora Carrington, who was involved with Bloomsbury Group writer Lytton Strachey and artist Mark Gentler (whose studio was nearby) was a regular visitor to number 45. On a few occasions in November 1918, she wrote to Lytton reflecting on the people living nearby. (Carrington's Letters, edited by Anne Chisholm – pages 98 and 102)
Margaret Gardiner (22 April 1904 – 2 January 2005) who lived at number 35 was a patron of artists, most notably a supporter of Barbara Hepworth and her husband, Ben Nicholson. Gardiner came to Downshire Hill with her husband, scientist Desmond Bernal after living with Jim & Helen Ede (Kettle's Yard, Cambridge) at 1 Elm Row. Gardiner donated her extensive art collection to the Pier Art Centre in Orkney, established in 1976 and was awarded an OBE in 1980. In her garden at number 35, she had a Barbara Hepworth sculpture entitled 'Curved Form (Trevalgan) ', a Bronze made in 1956, now at Pier Art Centre.
Literature
As a writer, you might visit Downshire Hill and its surrounds to see the homes of some of Britain's most famous literary personalities. John Keats (Keats House) and Edith Sitwell (Bryher House) are the most well-known writers of the area.
Hampstead Hill Mansions was built in 1896 on the site of 'Spring Cottage' the former home of Dante Gabriel Rossetti and his wife Lizzie Siddal. Sir Max Beerbohm created a watercolour in 1917 of Rossetti & Siddal inside of Spring Cottage whereupon 'Coventry Patmore comes round from Elm Cottage yonder, and very vehemently preaches to the Rossettis that a tea-pot is not worshipful for its form and colour, but rather as one of the sublime symbols of Domesticity.'
The Garnett family lived at number 6 during the First World War, Constance Garnett was an English translator who made the great works of Russian literature available to English and American readers in the first half of the 20th century. Having taught herself Russian, she set about translating major novels; her translations of Dostoyevsky and Chekhov are arguably still the most widely read versions. She translated the complete works of Turgenev and Gogol and the major works of Tolstoy.
Her son, David, a writer and publisher, was a central figure in the Bloomsbury group and a lover of the artist Duncan Grant. He would go on to marry Duncan and Vanessa Bell's daughter Angelica in 1942.
Elizabeth Jenkins lived at number 8, from where she wrote her 2004 memoir 'The View From Downshire Hill'. She was a successful novelist; 'The Tortoise and the Hare' was her most widely read novel. She wrote acclaimed biographies of Jane Austen, Henry Fielding, Lady Caroline Lamb, Joseph Lister and Elizabeth I. She was awarded an OBE in 1981.
Fleet Street publisher and writer Arthur St John Adcock lived at number 43, along with his daughter Marion who was a highly regarded novelist, poet and author of some 20 children's books. Many of her 'Fairies Series' of poems and short stories are set around the landscape of Hampstead Heath.
In 2018, Guy Fraser-Sampson published the fifth book in his series of Hampstead murders entitled 'The House On Downshire Hill' loosely based on the events surrounding the demise of 86-year-old Allan Chappelow in 2004.
Science
Downshire Hill was home to Peter Medawar (25), the Brazilian-born biologist and immunologist. He was once described by Richard Dawkins as "the wittiest of all scientific writers". In 1960 he was awarded the Nobel Prize for Physiology or Medicine for developing and proving the theory of acquired immunological tolerance, a model that paved the way for successful organ and tissue transplantation.
At number 45, Alix and James Strachey were regular visitors. James and Alix produced the English translation of the 'Standard Edition of the Complete Psychological Works of Sigmund Freud', published in 24 volumes between 1953 and 1966. Up until recently, Egle and Moses (Moe) Laufer lived at number 42; both contributing extensively to the study and understanding of child psychoanalysis.
Entertainment
Academy Award-winning English actress, Peggy Ashcroft lived in Hampstead Hill Mansions at the top of the road. Puppeteer, Jim Henson lived next door at number 50 and soon after moving in he acquired 1b Downbshire Hill as the workshop for the Henson Creature Shop (the former postal sorting station and now the NHS Keats Practice).
Number 7 Downshire Hill was home to Martin Shaw (1875-1958), the English composer, conductor, and theatre producer who wrote the hymns All Things Bright and Beautiful and Morning Has Broken.
Actress, Dame Flora Robson lived briefly at number 37 Downshire Hill after 1936.
In the next post, I will publish information about the making of Downshire Hill and the likely origin of the name. If you have any information to add to our knowledge please let us know by contacting the association.